10 All-Too-Common Ways Pests Get in Your Home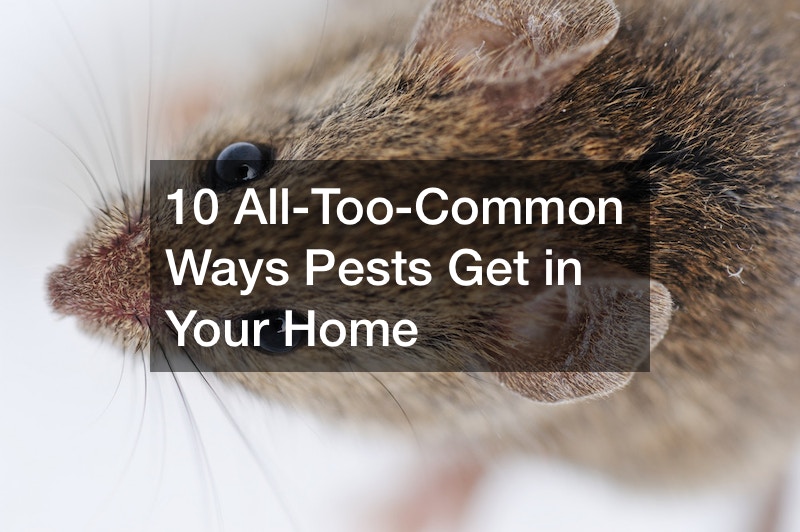 Dealing with a pest infestation in the home or even in your place of business is not only a hassle, but it can also be devastating to your property's structure and in some cases, even to your own health over time. Knowing how pests get in can help you pinpoint weak points in your home or even in any commercial property you've recently invested in. When you know common ways that pests get in, you can take the appropriate measures and precautions to prevent an infestation from occurring or in some cases, even spiraling out of control.
1. Through Your HVAC System
One of the most common ways that pests get in to homes and in some cases, even commercial buildings, is through a vulnerable HVAC system. If your HVAC system currently has any cracks and openings or if it is simply outdated and may require repairs or a replacement, there is a much greater risk of allowing pests to get into your home or place of work. If you believe your HVAC system is the source of a pest infestation, you can choose to work with a pest control company or in some cases, even HVAC contractors or providers near you.
Benefits of Hiring a Professional HVAC Specialist to Investigate Potential Pest Infestations
Regardless of where you believe your pest infestation is originating from within your HVAC system, working with a specialist, contractor, or HVAC company is best. Whether you believe the pests are entering your home through traditional vents you have installed or in an air purification system you have in place, an HVAC specialist can provide you with the inspection you need to determine the root cause of the issue at hand. In some cases, HVAC specialists and contractors will also help assist you with an inspection with the use of modernized cameras for an even more in-depth and precise look into the vents and HVAC system setup throughout your home at the time.
2. Via Your Landscaping
Unfortunately, landscaping is another common way that pests get in to different properties, including residential homes and commercial places of business. From traditional revegetation to overgrown weeds, plants, and shrubs, there are many different ways that landscaping can contribute to the thriving of pests in and around your home, including throughout your backyard. If you want to ensure you are capable of tending to your landscaping year-round, but you do not have the time to do so on your own to minimize the risk of a pest infestation, turning to a trusted local landscaping company is essential.
Advantages of Hiring a Local Landscaper or Trusted Landscaping Company
Turning to a trusted landscaper near you is not only a way to minimize the ability of pests to infest your yard, but you can do so by ensuring your yard is not rife for pests based on the type of flowers, trees, shrubs, and plants you currently have in place. Landscapers who are familiar with the region you live in can help you determine which flowers and trees are optimal for your yard while minimizing the risk of a pest infestation, regardless of the type of pests you are at risk for in your home. You can also work with a landscaping company or contractor on a regular basis for ongoing maintenance services, which reduce overgrowth of weeds and the risk of developing a pest infestation over time.
3. From Your Pets
If you are a pet owner and allow your pets to spend any time outdoors, you will need to keep an eye on them and their coats of fur at all times. Oftentimes, pests get in to homes from pets who are allowed to spend time in the grass, dirt, or even in the sand whenever they are outdoors or relieving themselves. If you believe your pet has accumulated pests, such as fleas, there are DIY home remedies available. However, if you want to ensure that the pest issue has been treated properly and with the use of safe and effective treatment, you can do so by visiting your local veterinarian or dog groomer near you, depending on your needs and the specific needs of your pet.
Benefits of Taking Your Pet to a Professional During a Pest Infestation
Visiting a professional such as a veterinarian or in some cases, even a groomer, may be ideal for you whenever you believe your pet is the root cause of a pest infestation in your home. If you believe your pet has fleas, taking them to the vet can help you obtain the proper treatment and medication they may need to eliminate the fleas while ensuring they make a full and healthy covering. If there are additional pests that have burrowed themselves into the fur of your puppy or grown dog, you may also want to speak with a local groomer to schedule an appointment to guarantee that the issue is taken care of in a proper and professional manner.
4. From Used Furniture
Unfortunately, investing in used furniture and belongings is one of the most common ways pests get in to different areas, from homes to storage spaces to warehouses. Even if you intend to buy used items from local furniture stores you trust, there is no way to guarantee that they are not infested with pests, such as bed bugs. Whenever you're in the market for furniture and you want to save money by purchasing used options, you should take your time to thoroughly inspect any piece you're interested in bringing into your own home before doing so with confidence.
5. Through Your Drains
Depending on where you currently reside, another way that pests get in to homes and other types of buildings is via the drain system. If you live in a state such as Florida, where water creatures and pests are more common, you will need to take the time to commit to cleaning and inspecting your drains much more frequently than the average individual. If you want to ensure your drains are clean and clear at all times, consider enlisting drain cleaning services from a provider or company you can trust near you.
Benefits of Drain Cleaning Companies and Services
Working with professionals who offer drain cleaning services is highly recommended if you believe your home or property has a significantly greater risk of developing a pest infestation that stems directly from your own drain system. Drain professionals are not only licensed and insured, but will also arrive on-site to get to work with the use of commercial-grade equipment, such as drain and sewer cameras. Whether you simply want a complete inspection or you believe your home is already being targeted by pests, working with the right drain cleaning company can make a world of difference in the severity of the infestation you experience.
Once a drain cleaning professional pinpoints the entry point of an infestation, they can provide you with the direction you need to make the right changes in your home. Drain specialists can also complete thorough inspections with little to no damage to your drains, protecting and preserving your system for years to come.
6. From Openings in Your Home's Sheathing
If there are any openings in your home's sheathing, you will have a much greater risk of experiencing a pest infestation at some time or another. Openings in a home's sheathing can attract pests while allowing them to get comfortable and begin breeding, which can quickly spiral out of control if they are not eliminated as quickly as possible. In order to minimize the risk of allowing a pest infestation to occur, you may want to take time to research and invest in modern porch designs that are appealing to and suitable for you.
7. In Infested Products
Pests get in through many different means, from openings in cracks in the house to pets. However, another way that pests may find their way into your home is through infested products, from infested cereal boxes to hardwood you've recently purchased and are planning to install. Anytime you are in the process of bringing a new product into the home, whether as a material or as a completed product, it's important to thoroughly inspect it. Conducting thorough inspections on all products you bring into your house or onto your property will also allow you to maintain your own peace of mind, especially if you believe you are at risk of a pest infestation.
8. Via Gaps in Your Roofing
If you have any gaps in your roofing, there is a greater chance that pests get in, regardless of how sealed the rest of your home is at the time. Any gaps in the roofing of a home can attract pests that are searching for a way to protect themselves from the elements outdoors. If you believe you may have missing shingles, damaged flashing, or if you want to inspect potential gaps you've discovered in your roof, you can do so by turning to the right local roofing company or contractor near you.
9. Across Open Spaces
Pests also have a way of making their way into homes and different types of properties by finding their way across open spaces, such as fields and expansive yards. If you have numerous open spaces that are accessible to pests surrounding your home or commercial building, you may need to consider investing in a fence that protects the perimeter of your home or building. If you are in the market for fence installation services, turning to the experts can ensure you've made the right decisions every step of the way.
Why Work With Professional Fence Installers
Hiring a professional fence installer is a way to ensure you are choosing the right type of fence based on the level of protection you are seeking. When you are working with a professional who specializes in the installation of residential fences, you can also take your time to compare materials, heights, and styles of fencing that are just right for the look you are going for in and around your home. Additionally, work provided by a professional fence installer will also be covered under a warranty or guarantee, protecting you as a homeowner or even as a commercial property investor, regardless of the type and size of the fence you're interested in.
10. Through Uncovered Openings
Another way that pests get in includes uncovered openings, such as an open screen door or even a garage door screen that is broken or no longer in place properly. If you have a missing garage door screen or if yours is ripped and opened in different areas, your home is at a much greater risk of becoming a target of a variety of pests and species. When you want to minimize the risk of a garage infestation, you can do so by working with a professional garage door screen manufacturer or installation specialist near you.
Benefits of Working With a Garage Door Screen Specialist
Anytime you are in the market for a new screen door for your garage, it is highly advisable to turn to a professional to assist with the process of selecting and installing the door itself. Specialists who install garage door screens are not only skilled in doing so, but they can also walk you through comparing products, brands, and screen types based on the garage you have attached or detached from your home and the type of screen you're interested in to deter potential pests. When you choose to work with a garage door specialist or expert, you can also ask questions regarding the type of garage door screens that are right for your garage before settling on a decision that is just right for you.
Knowing how pests get in can protect you from major infestations that can quickly add up in costs and damages. If you are aware of potential entry points that are most accessible in and around your home, you can take the steps necessary to protect and preserve its structure. The more aware you are of potential pest infestations and where they may enter your home, the easier it will be for you to tackle issues that can arise at any time during the year, regardless of where your home or property is currently located.
Dealing with a pest infestation in the home or even in your place of business is not only a hassle, but it can also be devastating to your property's structure and in some cases, even to your own health over time. Knowing how pests get in can help you pinpoint weak points in your home…